Jon Salmon of Mycosense Mushrooms and Sara Huston of TLAAG.
Oat straw, a coffee maker to pasteurize, some 70% alcohol, Pleurotus ostreotis spawn on grain
DAY 3:
DAY 5:
Day 7: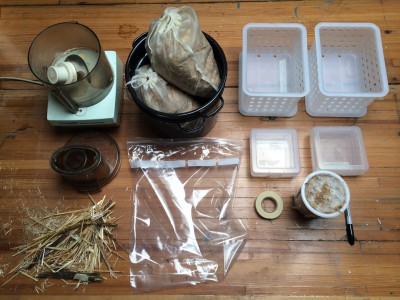 Cuisinart to make the oat straw finer didn't work so well. The plastic containers are molds for brick samples, and in the black pot there's oat straw in nut milk bags that I pasteurized in a 100 cup coffee pot.
Transferred jar contents to bricks and cylinders.
Got the first cylinder out after 6 days of Pleurotus ostreatus, and it is pretty solid.